World Environment Day is celebrated annually on 5 June and is the United Nations' principal vehicle for encouraging awareness and action for the protection of the environment. This year, PAM Air, together with Nam Viet Design and Signify Vietnam are celebrating World Environment Day in a very special and meaningful way.
Derived from the actual need of the prevention and control of the pandemic in Vietnam
Regardless of the nation-wide hot weather and the escalation of the COVID-19 pandemic have caused many inconveniences, the medical teams still have to put on full body protection clothes for long periods of time.
Derived from the actual need as well as the will to contribute to the country, on June 1st 2021, Nam Viet Design – a Hanoi based Interior Design & Construction company, PAM Air – a non-profit organization committed to providing air quality monitoring & data services and Signify – the world's leading company in specialized and residential lighting systems for IoT (Internet of Things) have set up a rapid response team to help the front line medical team in Bac Giang, which is currently a COVID-19 hotspot with more than 2.000 cases that need to be tested everyday.
  
Intelligent design
With the size of each testing booth about 1,2m x 2,4m x 2.65m, 4 medical staff can sit inside the cool space, guaranteed to be disinfected, and put their hands through two gloves attached on the window to take samples for testing. This solution can help ensure their health as well as working efficiency.
In principle of operation, natural air from the environment is sucked into the air cushion compartment by a forced exhaust fan, moves through the filter, and then shone through a Philips UVC lamp that has the ability to disinfect without producing Ozone before it is released into the room. Then the air continues to be circulated through the air conditioner's indoor unit, cooled and filtered once more to ensure air quality.
The testing booth is equipped with intelligent and safe systems from UVC lamps to loudspeakers. All surfaces are disinfected within 08 minutes before each doctor's shift. In addition, the automated and remote control systems also help doctors reduce surface contact and focus on sampling.
Experimental data conducted by the National New Infectious Diseases Laboratory (NEIDL) at Boston University show that, under laboratory conditions, when irradiating a UVC light source onto a surface that has been exposed to SARS -CoV-2, a dose of 5mJ/cm2 can reduce up to 99% of SARS-CoV-2 virus (radiated for 6 seconds), and a 25-second radiation dose of 22mJ/cm2, the amount of virus was reduced by up to 99.99%.


Our advantages
Our UVC lamp system is proven to be capable of neutralizing SARS-CoV-2 virus without causing any harm to human health. Furthermore, this method is faster, more reliable and cost-effective compared to using chemicals.
For the specific technical requirements for the intelligent COVID-19 testing booth, the project team decided to use IoT-connected smart products capable of real-time monitoring and control, ensuring a safe and stable environment. All IoT devices are directly monitored and controlled via mobile applications provided by DLCorp and PAM Air according to actual usage needs.

In conclusion
During the meantime, this is considered the most practical solution, which includes an optimal model and can be easily installed. The construction team can complete 50 booths per week to cope with the escalation of the pandemic. 
We hope that our solution can provide the medical team with a convenient and safe working environment, contributing to quickly repel the pandemic.
---
Updated:
Updated: Our "Heat-resistant and cross infection risk reduction COVID-19 testing booth" have arrived at Bac Giang at 21:30, 5 June – World Environment Day.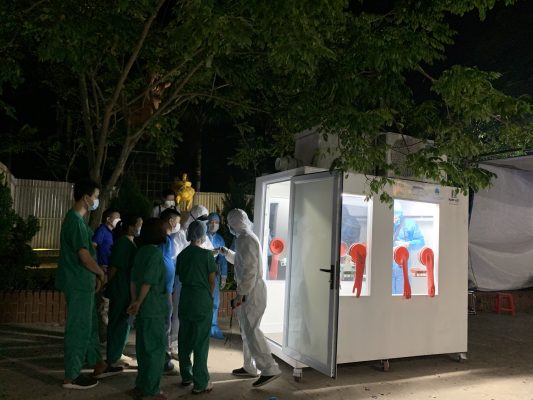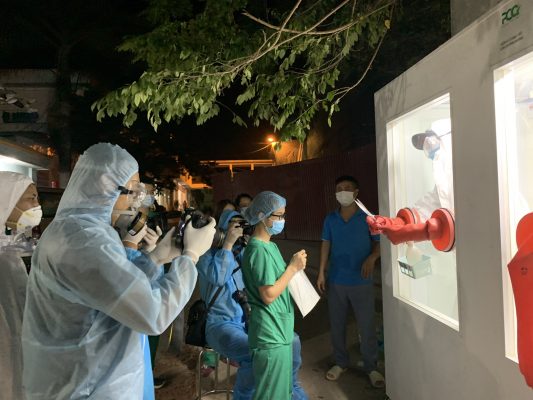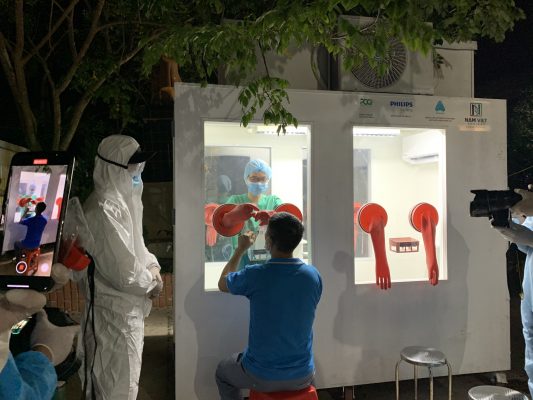 Hopefully this model will be replicated to ensure the safety and comfort of medical staff
#staystrongBacGiang #pamair #namvietdesign #signify
---
Read more about our special project:
…