Hanoi is currently a megacity with a very high population density and urbanization, but there is a shortage of public spaces as well as the quality of public space is not guaranteed in the inner-city districts.
A project for the community
The density of green public space in Hanoi is 1.72m2/person – much lower than 9m2/person of other countries in the world.
Stemming from the practical needs of the community, PAM Air in collaboration with partner units including ICLEI, Think Playgrounds, INPOS, Nghia Tan Ward People's Committee, Cau Giay District People's Committee and Hanoi Department of Natural Resources and Environment have implemented a low-emissions public space model at Nghia Tan Sports and Cultural Center.
"Low-emission public space" is a pilot model of Hanoi city of a community playground in which residents' activities will be low emission to the environment.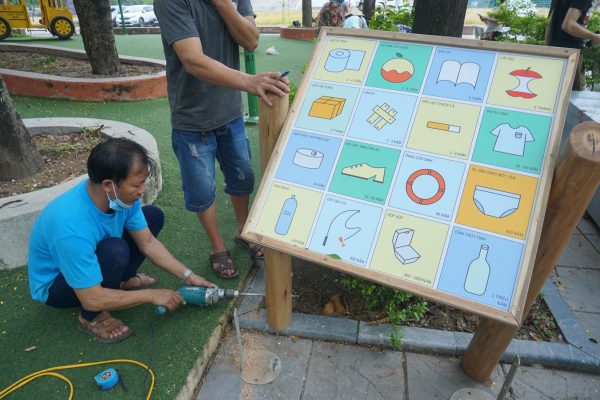 What is a low-emission public space?
A public space according to low emission criteria needs to ensure the following factors:
Sustainability

: the concept of sustainability is always a priority in creating public spaces that promote economic, environmental and social balance;

Naturalness

: ensuring the maintenance and conservation of native ecosystems, enhancing the system of trees, water flows, land and habitats of natural organisms;

Multi-function

: promoting multi-functional public spaces to ensure the use of different generations in the city such as the elderly, young people, children, families…;

Mobility and accessibility

: creating conditions of mobility and equal access for all people, especially disadvantaged groups (women, children, the elderly…);

Relevancy and connectivity

: Public space designs should ensure compatibility and connection with existing urban structures;

Materials and technologies

: Increased use of recycled materials, natural materials, local materials and technologies using renewable energy;
Community participation in governance: Communities need to play an important role in the process of creating and managing public spaces.
Actual handover products
The low-emission public space at Nghia Tan is built on existing infrastructure, including a cultural center and a playground with green grass and eco-friendly play equipment for children. To improve this space to become a low emission space, this model will be built with some of the following items:
Low-emission playground

: equipment made from recycled materials and sustainably sourced natural materials (industrial wood), including a combination of children's mobility equipment, environmental and ecological education corners to create a green, attractive, environmentally friendly and highly educational space;

Solar battery system

: provide electricity for all facilities of the Sports and Cultural Center of Nghia Tan. With a capacity of about 20kWp, this system will meet 90% of the current electricity demand of this space, it is estimated to reduce emissions by 1.6 tons of CO2 equivalent per year and equivalent to planting 1 ha of forest.

Air quality monitoring device

: automatically updates the parameters of air quality in the area such as fine dust, temperature, humidity… Residents can download the PAM Air mobile app to be fully aware of the daily air quality in our living area;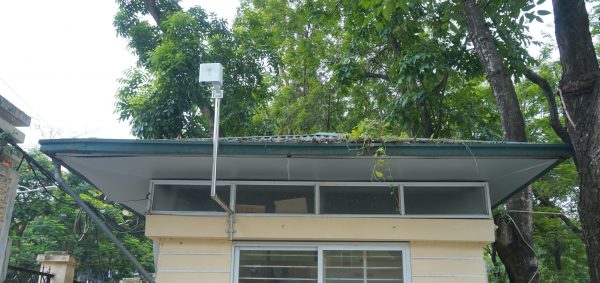 Environmental education corner

: includes bulletin boards providing knowledge about air pollution, waste, impacts and solutions. These information boards are systematized and designed with friendly, easy-to-remember and recognizable images, making the learning process more interesting.

Nomad play equipment system

: based on the idea of ​​"Nomad" – Red Sparrow team won the design competition "Greening space – Peace of life". The contest is a space for people to directly present their ideas about the ideal green space in their community. The idea of ​​a nomadic playground aims to create a green playground for the community to move, assemble, jointly operate and manage.

With the use of flexible and movable device modules, the authors have created a flexible connection between public spaces in the city, creating more functions for the community to connect. community and government to renovate friendly, equitable and sustainable spaces.
The system of indicating signs

: helps users easily observe the active areas in this space.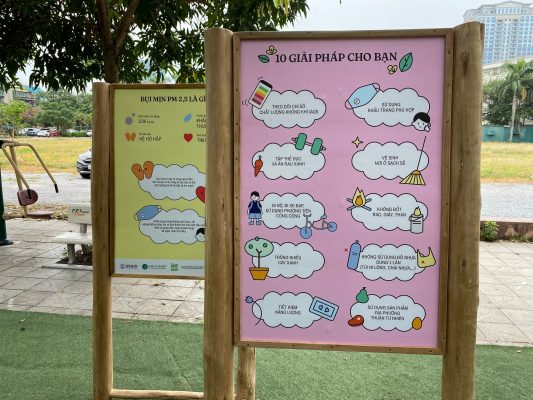 A project by the community
On June 25th 2021, representatives of the project team were present at Nghia Tan Culture and Sports Center to acknowledge the completion of installation and guide the community on operation, warranty and maintenance methods. of products. The leaders and people will join hands with the project team to keep the products and equipment in stable operation, ensuring the correct function as a safe public space for entertainment activities.
Appendix
This is a part of the project "Ambition City Commitment" – an international project of ICLEI funded by the German Ministry of Environment, Nature Conservation and Nuclear Safety (BMU) through the Initiatives Program. The International Climate Initiative (IKI) calls on major cities in Southeast Asia to commit to cutting greenhouse gases and building a low-emissions city.